Flights from Dublin to Zürich
The charming metropolis of Zürich, Switzerland offers first-class quality of life. Zürich is distinguished by its unparalleled selection of stores lining the world famous shopping mile, the Bahnhofstrasse, not to mention its broad choice of leisure activities. Numerous gastronomic establishments in the surrounding region pamper food lovers with all manner of culinary delights. After dark, some 500 bars and clubs provide a wide variety of entertainment. Zürich is also the ideal departure point for all kinds of excursions, such as to the Rhine Falls, a chocolate factory, or the snow and perpetual ice on Titlis Mountain.
Cheap flights to Zürich from Dublin
Catch a cheap flight to Zürich with Aer Lingus and enjoy a quick and comfortable journey. We operate daily departures to Zürich from Dublin Airport Terminal 2. Once you reach Zürich airport, the city centre is just a few minutes away.
Why Visit Zurich?
Zurich, the largest city in Switzerland, can boast some of the very best Apline scenery in Europe. You can experience this by skiing or hiking the Swiss Alps, whatever your preference. The city existis both as a cultural melting pot and 21st century innovation hub.The Old Town is one of the most interesting areas of Zurich. It has great bars, restaurants, cafés, shops and monuments, like the Grossmünster. It is only a short distance from the Central Station.
Book flights to Zurich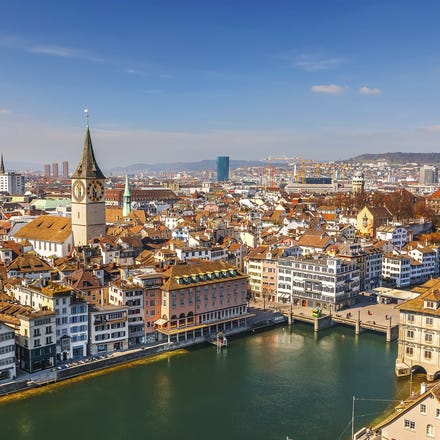 Flights in brief
Direct flights available to: Zürich International Airport (ZRH)
Average flight time: 2hr 30min
Frequency: Daily
Zürich International Airport
Zürich Airport is voted to be one of the best in the world. It consists of two terminals and they both have a Tourist Information Centre based in the arrivals hall. The airport is situated 11 kilometres outside Zürich and there are several ways of getting into the town centre.
The subterranean train station is directly beneath Terminal B, and trains depart roughly every 10 minutes for the city's main station. You can buy tickets directly from the vending machines that can be found next to the SBB travel centre. Tel: +41 900 300 300
The Glatttalbahn, tram number 10, connects the airport and the main railway station. The tram runs every 7 or 15 minutes. Tram number 12 connects the airport and the hub of Stettbach and runs every 15 minutes. Tel: +41 44 809 56 00
There is a frequent bus service running from the airport. www.zvv.ch.
The taxi rank is located just outside the arrivals terminal 1 and 2. Taxis may be reserved in advance by calling +41 848 850 852.
Airport Taxi
+41 44 777 77 77
www.taxi7x7.ch
Taxi
Taxi 444 is one of the biggest taxi companies in Zürich but you can find 1350 licensed taxis in the city. Taxis are easy to use and reliable, even during rush hours.
Taxi 7x7
+41 44 777 77 77
www.taxi7x7.ch
Taxi 444
+41 44 444 44 44
www.taxi444.ch
Public transport
The easiest way to get around Zurich is on foot together with the public transport, trams, buses and trains.
In Zürich City you will find a bus or ZVV tram stop at intervals of approximately every 300 meters. Timetable information is available at these stops, including information about connections, a zone map and ticket machine.
Single journey tickets can be purchased along with tickets for 1 hour or Day Cards for various zones. Zurich City is part of Zone 110, the Airport part of Zone 121. You should always carry tickets with you as tickets are regularly controlled.
TPG (Trams and buses): www.zvv.ch
Terms and Conditions
Fares are subject to terms, conditions and availability
Aer Lingus Newsletter
Sign Up and Save
Be first to receive current offers on flights to Zürich
Learn about new and exciting destinations
Get the latest travel news and more