Flights from Glasgow to Washington DC
Fly from Glasgow to Washington DC via Dublin with Aer Lingus and explore the sights and sounds of the US capital. Monuments and memorials, eclectic neighbourhoods, true local flavour - Washington, DC is a place unlike any other. It's your home away from home with free museums and America's front yard.
*Fares displayed each way as part of a return trip
Cheap flights to Washington DC from Glasgow
Grab yourself a cheap flight to Washington DC and discover how easy it is to travel to North America with Aer Lingus. Connect in Dublin where you can pre-clear U.S. immigration before boarding your flight - that means you can grab your bags and go when you land in Washington!
Why Visit Washington DC?
Think BIG in Washington - as soon as you arrive in DC, you'll be knocked over by the scale of the place. America's capital wants you to know where you are, and the city goes all out to impress in terms of grandeur and size. Drama and scandal bubble under the surface, while the streets are abuzz with hip and happening events, museums, restaurants and clubs around every corner. The principles of Equality, Justice, Life and Liberty are still upheld, but DC is, above all, a trendy and international town.
Book flights to Washington DC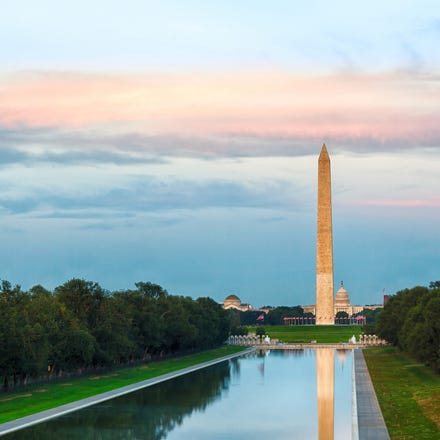 48 hours in Washington DC
It's hard to get away from US politics these days, so why not embrace your inner politico and go check out the iconic sights of Washington DC...
Read more in our blog
Flights in brief
Depart Glasgow then connect in Dublin to fly direct to: Washington Dulles (IAD) - Terminal 2
Average flight time from Dublin to Washington: 8hr 5min
Frequency: Daily from Dublin.
Useful facts on Washington DC
International dialling code: +1 / 001
Area code: 202
Currency: US Dollar, $1 = 100 cents
Emergency numbers: 911
Population: 601,800
Washington DC tourist information
DC Chamber of Commerce Information Center
506 9th Street
NW Washington, DC 20004
Opening hours: Mon-Fri 8.30am-5.30pm, closed on Saturday and Sunday.
Washington DC Dulles airport
All Aer Lingus flights to Washington arrive at Dulles International Airport (IAD), in Loudoun and Fairfax counties in Virginia, 26 miles (42 km) west of downtown Washington, D.C..

Travelling to Dulles is easy with Silver Line Express bus service, connecting Dulles International to downtown Washington, D.C. and beyond. You can buy your tickets for the Dulles International Airport Silver Line Express at the ticket counter located inside the vestibule of Door 4 on the Arrivals Level of the Main Terminal.
Metrobus Route 5A to and from Washington, D.C. and Rosslyn, VA
Bus operates to and from L'Enfant Plaza, Rosslyn, Herndon-Monroe Park & Ride and Dulles Airport Ground Transportation Curb location 2E.
Website: www.wmata.com
Washington Flyer Shared-Ride Service
You can also choose shared van service to and from points all around the metropolitan region. No reservations required. Go to the Dulles Airport Ground Transportation Centers down the ramps from Arrivals Door no 2 or no 7 or call 1-800-258-3826 (SuperShuttle) / 1-800-590-0000 (Supreme Airport Shuttle).
Washington Flyer Taxi
There is also Taxi service from the airport. No reservations required. Visit the Washington Flyer Taxi counter at the Dulles Airport Ground Transportation Centers down the ramps from Arrivals Door no. 2 or no 7 or call 703-572-TAXI.
Dulles Airport website: www.metwashairports.com
DC Public transport
Public transport in Washington consists of the super-efficient Metrorail and bus services. Computerized fare cards are available from self-service machines at the stations. One-day passes and weekly ones are available.
The bus service in DC provides services throughout the city and to outlying suburbs. Stops are marked by red, white and blue signposts. Kids travel free. Be sure to have exact change ready for the automatic fare machines.
Website: www.wmata.com
Wi-FI is now available on all our A330 aircraft on our transtlantic routes. Communicate with friends and family, launch your business to new heights or browse your favourite websites as you cross the Atlantic
Stay connected
Save time and avoid queues with US Customs and Border Protection pre-clearance at Dublin or Shannon airports before your departure
Pre-clear US Customs
Terms and Conditions
Fares include taxes, charges and admin fee and are on an each-way basis, when purchased as part of a return trip. Subject to terms, conditions and availability.
Aer Lingus Newsletter
Sign Up and Save
Be first to receive current offers on flights to Washington DC
Learn about new and exciting destinations
Get the latest travel news and more