Flights from Manchester to Toronto
Toronto is an urban mosaic of cultures and ethnicities considered one of the most multicultural cities in the world. It is the most heavily populated city in Canada, a cosmopolitan financial, commercial and cultural centre, blending its multicultural heritage - about 80 ethnic groups speaking more than 100 languages - with urban chic. With a lot to offer in terms of culture and entertainment any time of year, Toronto is the perfect travel destination for families and solo travellers alike.
*Fares displayed each way as part of a return trip
Cheap flights to Toronto from Manchester
Grab yourself a cheap flight to Toronto and discover how easy it is to travel to North America with Aer Lingus. Connect in Dublin Airport's Terminal 2 from where we have up to four flights each week for Toronto, we are the smart choice when flying from Manchester to Canada.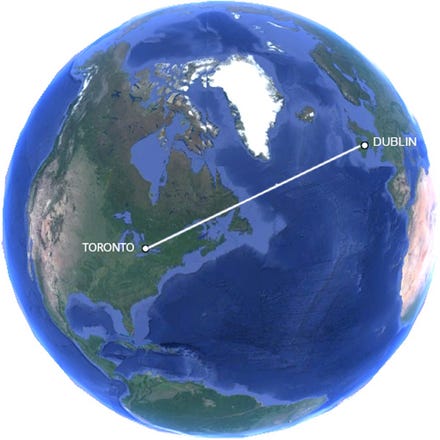 Flights in brief
Connect in Dublin then fly direct to: Toronto Pearson International Airport (YYZ)
Average flight time: 7 hours 35 minutes
Frequency: Up to 6 times weekly during Summer schedule
View Timetable
Why Visit Toronto?
With exciting attractions, live performance, major league sports and a festival for nearly everything, you'll never run out of things to do in Toronto. A unique creative spirit thrives in cosmopolitan Toronto. This city is beautiful, diverse and always has something going on whether that be a food festival, concert, or crazy event.
Book flights to Toronto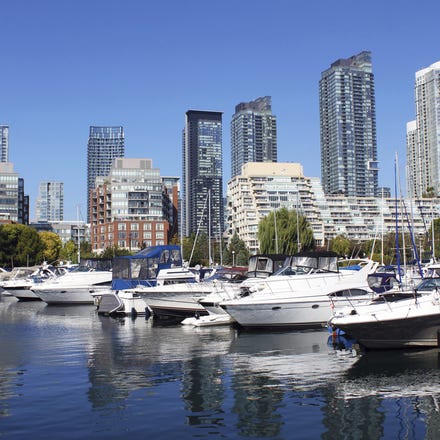 Useful facts on Toronto
International dialling code: +1 / 001
Area code: +1 (416) and (647). For the Greater Toronto Area: (905)
Currency: Canadian Dollar (CAD), $1 = 100 cents
Emergency numbers: 911
Population: 2.5 million
Toronto tourist information
Tourist Information Centre
Union Station
65 Front Street West, Toronto
+1 416 392 9300
Open 7 days a week from 10 a.m. - 6 p.m
Lester B. Pearson International Airport
The Lester B. Pearson International Airport is located in the northwest corner of metropolitan Toronto 16 miles (25 km) west of central Toronto and serves more than 35 international carriers. It is the main Toronto airport for handling commercial and business flights. Allow 40-60 minutes to/from the heart of downtown, depending on time of travel.
The TTC, Toronto's public transit provides service and is the least expensive method of getting to and from downtown Toronto, however travel time will be considerably longer and it will be necessary to transfer between the ground routes and the subway.
Airport Address:
6301 Silver Dart Drive,
Mississauga, ON
Telehone: +1 866 207 1690
Website: www.torontopearson.com
Public transport
The Toronto Transit Commission (TTC) is the quick, convenient and safe way to get around Toronto. The subway system is linked with buses and streetcars to get you around Toronto on one fare, provided it's a one way trip with no stopovers. You can 'ride the rocket' (as the TTC aptly describes itself) weekdays and Saturdays from about 6:00 a.m. until 1:30 a.m. and on Sundays from about 9:00 a.m. to 1:30 a.m.
Get a transfer when you pay and you can make a free connection as long as you complete your journey within one hour. Weekly and monthly passes are also available at subway stations.
Buses and streetcars are frequent and can get you from any subway stop to your final destination. Both are equipped with route and destination information signs. Schedule information is posted at most major route intersections. There's a late night service called the Blue Night Network. Buses and streetcars run on most major routes (transit stops are marked with a reflective blue band) every morning from about 1:30 a.m. to 5:00 a.m. Service is provided every 30 minutes or less.
Toronto is also served by the VIA Rail System, the network that provides all rail service throughout Canada (with connections to the Amtrak system through Niagara Falls, New York). Union Station is the name of the train station. It is located on Front Street, between Bay and University (across the street from the Royal York Hotel). The station is right on the subway line.
Website: http://www.ttc.ca/
Wi-FI is now available on all our A330 aircraft on our transtlantic routes. Communicate with friends and family, launch your business to new heights or browse your favourite websites as you cross the Atlantic
Stay connected
Save time and avoid queues with US Customs and Border Protection pre-clearance at Dublin or Shannon airports before your departure
Pre-clear US Customs
Terms and Conditions
Fares include taxes, charges and admin fee and are on an each-way basis, when purchased as part of a return trip. Subject to terms, conditions and availability.
Aer Lingus Newsletter
Sign Up and Save
Be first to receive current offers on flights to Toronto
Learn about new and exciting destinations
Get the latest travel news and more