Flights from Edinburgh to Seattle
Progressive and yet laid back, Seattle offers a wide range of entertainment, live music and family fun for all to enjoy. Called The Emerald City, Seattle is the largest city in the Northwest United States and is home to the iconic Space Needle, the famous Pike Place Market and the new Chihuly Garden and Glass.
*Fares displayed each way as part of a return trip
Cheap flights to Seattle from Edinburgh
Grab yourself a cheap flight to Seattle and discover how easy it is to travel to North America with Aer Lingus. Connect in Dublin Airport's Terminal 2, where you can pre-clear U.S. immigration before boarding your flight - that means you can grab your bags and go when you land in Seattle!
Why Visit Seattle?
Noted as the birthplace of grunge music and serious coffee shops (Starbucks and Tully's), Seattle is far sunnier than its reputation as a rainy city. In fact, Seattle receives less rain than many major U.S. cities including New York and Miami. Seattle is a green city with an abundance of evergreen trees and spectacular views of the Cascade Mountains to the east and the Olympic Mountains to the west.
Book flights to Seattle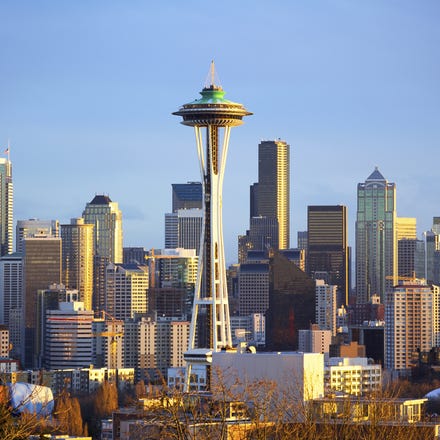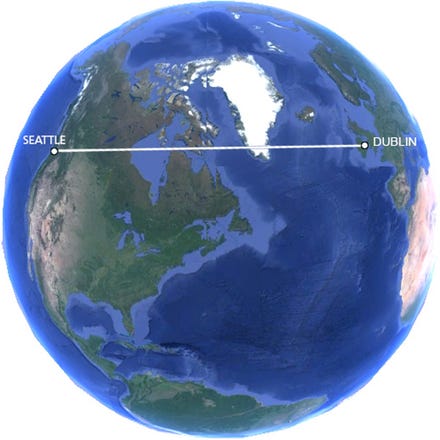 Flights in brief
Connect in Dublin and fly direct to: Seattle-Tacoma International Airport (SEA)
Average flight time: 9 hours 45 minutes
Frequency: Up to 4 times weekly during summer schedule
View Timetable
Useful facts on Seattle
International dialling code: +1 / 001
Area code: 206
Currency: US Dollar, $1 = 100 cents
Emergency numbers: 911
Population: 616,500
Seattle tourist information
701 Pike Street
Lobby of the Washington State Convention Center
Seattle, WA 98101
(866) 732 2695 or (206) 461 5840
Open Monday through Friday and summer weekends, 9.00 to 17.00
Seattle-Tacoma International Airport
All Aer Lingus flights to Seattle arrive atSeattle-Tacoma International Airport (SEA), which is located approximately 14 miles south of downtown Seattle.
Sound Transit connects the airport to downtown Seattle on its Central Link light rail. Trains operate from 05:16. until 00:07. weekdays, 05:18 a.m. until 00:04. on Saturdays, and from 06:17 until 23:05. on Sundays and holidays. Trains run every 7 to 10 minutes during most of the day, up to 20 minutes during non-peak hours. To get to the station, use Sky Bridge 6 on the north side of the airport.
Airport Address:
17801 International Blvd.-(Pacific Highway So.),
Seattle, WA 98158
Telehone: +1 206 787 5388
Website: http://www.portseattle.org/sea-tac
Public transport
Bus
King County Metro Transit: The "Metro" public bus system operates throughout Seattle and King County. To find a route, maps and fare information for travel throughout and beyond Seattle, visit Metro online at metro.kingcounty.gov.
Metro's Route 99 connects Seattle's International District, Pioneer Square, First Avenue destinations including the Seattle Art Museum and Pike Place Market, and Elliott Bay waterfront attractions such as the Olympic Sculpture Park, Seattle Aquarium and ferry services. Visit Metro Online for a route map and timetable.
South Lake Union Streetcar:

The South Lake Union Streetcar links Seattle's downtown core to the South Lake Union neighborhood and new 12-acre Waterfront Park. Visit External link: www.seattlestreetcar.org for a route map, hours of operation and ticket prices.
Seattle Center Monorail:

The nation's first full-scale commercial monorail system provides a fun, two-minute link from downtown Seattle to the Seattle Center daily. The Seattle Center station is across from the Space Needle. In downtown Seattle, catch the monorail at Westlake Center at Fifth Avenue and Pine Street. Learn more at External link: www.seattlemonorail.com.
Sound Transit:

Link Light Rail connects downtown Seattle with Sea-Tac International Airport, making interim stops in Southeast Seattle neighborhoods.
Sounder Commuter Trains operated between downtown Seattle, Tacoma and Everett.
Website: metro.kingcounty.gov
Wi-FI is now available on all our A330 aircraft on our transtlantic routes. Communicate with friends and family, launch your business to new heights or browse your favourite websites as you cross the Atlantic
Stay connected
Save time and avoid queues with US Customs and Border Protection pre-clearance at Dublin or Shannon airports before your departure
Pre-clear US Customs
Terms and Conditions
Fares include taxes, charges and admin fee and are on an each-way basis, when purchased as part of a return trip. Subject to terms, conditions and availability.
Aer Lingus Newsletter
Sign Up and Save
Be first to receive current offers on flights to Seattle
Learn about new and exciting destinations
Get the latest travel news and more