Flights to Philadelphia
Known as the birthplace of American democracy, Philly is home to an incredible array of treasures, including Independence Hall, The Franklin Institute and, of course, the famous Rocky Steps. Soak in the rich history, world-class art and so much more on a trip to Philadelphia.
*Fares displayed each way as part of a return trip
Cheap flights to Philadelphia from Manchester
Grab yourself a cheap flight to Philadelphia and discover how easy it is to travel to North America with Aer Lingus. Connect in Dublin where you can pre-clear U.S. immigration before boarding your flight - that means you can grab your bags and go when you land in Philadelphia!
Why Visit Philadelphia?
As the birthplace of America, Philadelphia has endured centuries of peril, challenges and conquest, and remains one of the nation's top attractions. Historical buildings, sculptures and murals line streets that were once walked by the Founding Fathers of the United States. Weather varies throughout the seasons, vacillating between mild springs, hot summers, and chilly winters, but people can always be seen out and about in the City of Brotherly Love.
Book flights to Philadelphia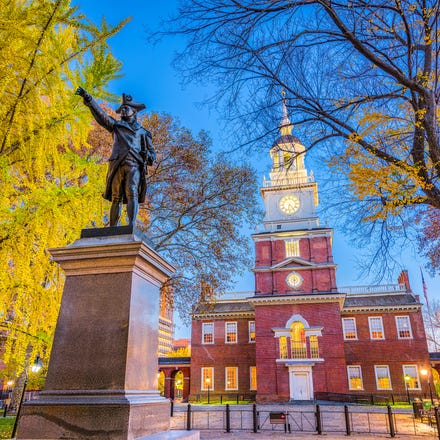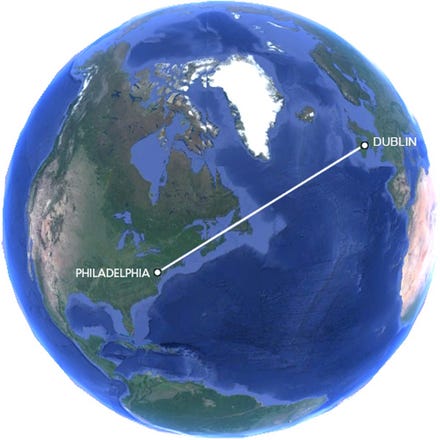 Flights in brief
Connect in Dublin then fly direct to Philadelphia International Airport (PHL)
Average flight time: 7 hours 25 minutes
Frequency: Daily during summer schedule
View Timetable
7 reasons to visit Philadelphia
History, culture and everything in between come together in Philadelphia. We recently visited the City of Brotherly Love. Check out our seven reasons why Philly should be on your list of places to visit...
Read more in our blog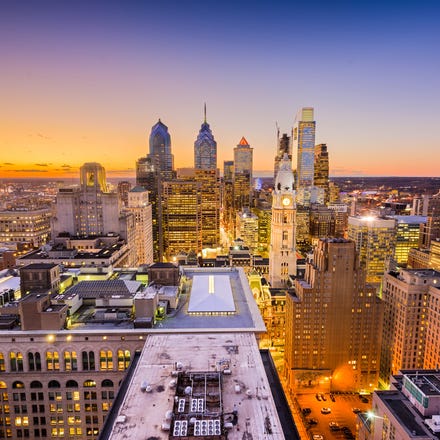 Useful facts on Philadelphia
International dialling code: +1 / 001
Area code: 215 & 267
Currency: US Dollar, $1 = 100 cents
Emergency numbers: 911
Population: 1,553,165
Philadelphia tourist information
Independence Visitor Center
Independence National Historical Park, 1 N Independence Mall W, Philadelphia
+1 800 537 7676
Daily 8.30am-6pm
Philadelphia International airport
All Aer Lingus flights to Philadelphia arrive at Philadelphia International airport (PHL), which is located approximately 7 miles from downtown Philadelphia.
Rail service to PHL is available via SEPTA's Airport Rail Line. The general transportation system is a network of public transit, taxicab, shuttle, and limousine services.
Airport Address:
Philadelphia International Airport
8000 Essington Avenue,
Philadelphia,
PA 19153
Telehone: +1 215 937 6937
Website: www.phl.org
Public transport
Rail
Southeastern Pennsylvania Transportation Authority, SEPTA, provides train service between Center City and the Airport on the Airport Regional Rail Line. Trains run every 30 minutes and operate from 4:52 am to 11:52 pm (Center City to Airport) and from 5:07 am to 12:30 am (Airport to Center City).
Stations on the Airport Regional Rail Line include Terminal E/F, Terminal C/D, Terminal B, Terminal A (East), Eastwick, University City, 30th Street, and three Center City stations along Market Street, including 30th Street, along with Suburban Station and Jefferson Station. All stations on the Airport Line are wheelchair accessible.
Website: www.septa.org
Taxis
The following cab companies serve the Philadelphia area:

Homestead Taxi - +1 215 855 9006
www.homestead-taxi.com

Freedom Taxi - +1 215 222 9999
www.freedomtaxi.com

Philadelphia Taxicab Service - +1 215 535 6700
www.philataxicab.com
Wi-FI is now available on all our A330 aircraft on our transtlantic routes. Communicate with friends and family, launch your business to new heights or browse your favourite websites as you cross the Atlantic
Stay connected
Save time and avoid queues with US Customs and Border Protection pre-clearance at Dublin or Shannon airports before your departure
Pre-clear US Customs
Terms and Conditions
Fares include taxes, charges and admin fee and are on an each-way basis, when purchased as part of a return trip. Subject to terms, conditions and availability.
Aer Lingus Newsletter
Sign Up and Save
Be first to receive current offers on flights to Philadelphia
Learn about new and exciting destinations
Get the latest travel news and more