Flights from Dublin to Nice
A sassy Mediterranean metropolis with pulsating nightlife, new avant-garde hotels and daring art galleries. The most fashionable street, the Promenade des Anglais, is the Champs-Elysées of the whole Riviera. Have you already bought your return ticket?
Cheap flights to Nice from Dublin
Catch a cheap flight with Aer Lingus and enjoy a quick and comfortable journey to Nice. We offer frequent departures to the French Riviera from Dublin Airport Terminal 2. Once you arrive at Nice Airport, our travel partners can offer you great discounts on rental cars, or you can catch a train or bus from the airport into the heart of Nice.
Why Visit Nice?
The Greeks and Romans did it, as did rich lords, film stars, artists and thousands of tourists. They were just going to pass by, but instead remained in Nice and along the Riviera. Some for just a few weeks, others for months and years. They were too captivated by the light, enchanted by the scents and charmed by the taste of olives, wine and succulent vegetables. All this with a chance to dabble their toes in a turquoise sea!
Book flights to Nice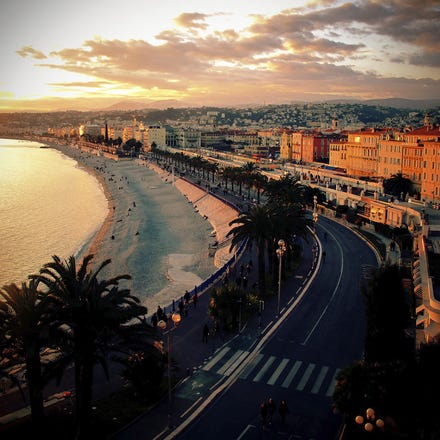 Flights in brief
Direct flights available to: Cote d'Azur Airport, Terminal 1 Zone D
Average flight time: 2hr 25min
Frequency: Daily flights during the summer schedule (April - October)
Useful facts on Nice
International Dialling Code: +33 / 0033
Currency: Euros, €1 = 100 cents
Emergency numbers: Emergency: 112 / 15
Police: 17
Fire brigade: 18
Population: 347,000
Tourist information address:
Tourist Office Nice
Av Thiers, Nice
+33 892 707 407
Airport Nice-Côte d'Azur
Airport Nice-Côte d'Azur is 7 km outside Nice. The airport bus departs every 20 minutes. A ticket gives you unlimited travel for the rest of the day in Nice. Taxi prices vary, but there is an updated list on the airport web site.
Airport Nice-Côte d'Azur , Nice
Tel: +33 4 898 898 28
http://www.nice.aeroport.fr
Public transport
Buses and trams are an efficient way to travel in Nice and along the Riviera. You can use the same ticket on both bus and tram. Timetables and a map are available from the tourist information office.
Trains are the most comfortable and fastest way to travel along the Riviera. The station in Nice is on avenue Thier. From here, it takes 20 minutes to Thiers, Cannes, 20 minutes to Monaco and 1 hour to Saint Raphaël.
Bicycles can be rented from a company called Nice Allocation Rent. Rollerblades can be rented from the Roller Station.
Terms and Conditions
Fares are subject to terms, conditions and availability
Aer Lingus Newsletter
Sign Up and Save
Be first to receive current offers on flights to Nice
Learn about new and exciting destinations
Get the latest travel news and more