Flights from Dublin to Newark
Fly from Dublin to Newark with Aer Lingus and explore the sights and sounds of New York City for less. Explore the infamous city that never sleeps, catch a Broadway show, explore the museums, don't forget shopping on 5th Avenue or take relaxing stroll in Central Park. Whatever you are looking for NYC will not disappoint!
*Fares displayed each way as part of a return trip
Cheap flights to Newark from Dublin
Newark, while in the state of New Jersey is the second largest city in the New York metro area, located approximately 8 miles (13 km) west of lower Manhattan. Grab yourself a cheap flight to Newark and discover how easy it is to travel to North America with Aer Lingus. Pre-clear U.S. immigration before boarding your flight - that means you can grab your bags and go when you land in Newark!
Why Visit New York?
New York is energy and attitude, pure and unrestrainable. Everything about it is larger than life, from the bright lights and bustling streets of Times Square, to the over-the-top magnificence of Broadway, to the imposing symbol of freedom and American ideals that is the Statue of Liberty. A centre of finance and business, of fashion and design, of art, music, entertainment and gastronomy, the city never sleeps. Not for nothing is it called the Capital of the World. New York is hugely international, seemingly having its long arms reach across the globe as it pulls the whole world, with its people and ideas, towards itself, making it a unique and unbearably exciting city.
Book flights to New York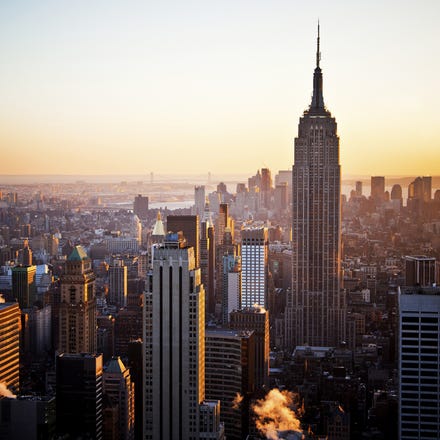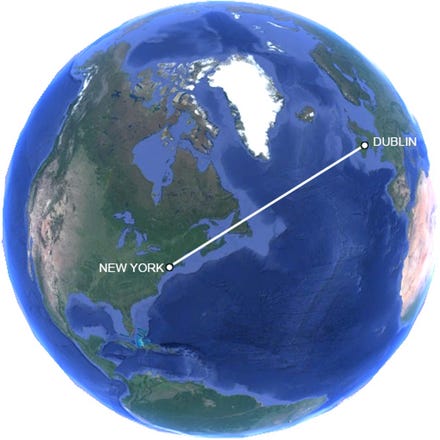 Flights in brief
Direct flights available to: Newark Liberty International Airport - Terminal B
Average flight time: 7hr 45min
Frequency: 1 flight per day
View Timetable
Useful facts on New York City
International dialling code: +1 / 001
Area code: 212
Currency: US Dollar, $1 = 100 cents
Emergency numbers: 911
Population:
City proper: 8,491,080
Metropolitan area: 23,632,722
NYC tourist information
Official NYC Information Center at Macy's Herald Square
151 W. 34th St. (bet. Seventh Ave. and Broadway)
Tel: +1 212 484 1222
Hours: Mon.–Fri., 9am–7pm; Sat., 10am–7pm; Sun., 11am–7pm. Closed Thanksgiving Day and Christmas Day.
Official NYC Information Center – Times Square
Seventh Avenue at 44th St.
Tel: +1 212 484 1222
Hours: 9am–6pm daily.
Newark Liberty International Airport
You can take public transportation or taxis to Manhattan from Newark Airport. There is a flat-rate taxi fare from Newark to Manhattan, but there are also rail and public transport options.
To reach the stops for public transport, you need to use the AirTrain in most cases.
There are also different bus services. Express Bus runs between Newark Liberty International Airport & New York City. The Express Bus runs from 4 a.m. until 2 a.m./ 365 days. The cost is $16 for one way, or $28 for round trip. Each bus stops at all 3 New York stops.
Address: Newark Liberty International Airport, 3 Brewster Rd, Newark, NJ 07114, USA
Telehone +1 973 961-6000
Website: http://www.panynj.gov/airports/newark-liberty.html
NYC Public transport
Taxis
You can hail a yellow cab on almost any street corner. Taxis are inexpensive and an easy way to travel. There are nighttime and rush hour surcharges. Remember to leave a tip. Manhattan has very long streets and avenues and it's important to know both the address and the cross street of your destination. A taxi is vacant if the yellow light on top of the car is completely lit.
Subway
If you're going somewhere too far to walk, the subway is the way to go. Most subway lines travel up and down Manhattan, while buses travel across. Subways run 24-hours a day, 7 days a week. You can buy a one week unlimited Metrocard if you know you will travel a lot. Ticket machines in subway stations accept cash, credit and debit cards. Subway maps are free from all ticket or information booths.
Buses
Most buses in Manhattan follow the north-south or east-west grid of the city, primarily on the larger avenues. Bus stops are marked by a light-blue sign on a green post (and include a list of bus numbers and routes), and the $2.75 fare can be paid either in exact change or with the MetroCard, with which you can transfer for free between metro and bus services. If transferring without a card, the driver can give passengers a free transfer coupon. Buses run frequently and, for the most part, all night, but traffic can make a long ride out of a short distance.
Website: www.mta.info
Wi-FI is now available on all our A330 aircraft on our transtlantic routes. Communicate with friends and family, launch your business to new heights or browse your favourite websites as you cross the Atlantic
Stay connected
Save time and avoid queues with US Customs and Border Protection pre-clearance at Dublin or Shannon airports before your departure
Pre-clear US Customs
Terms and Conditions
Fares include taxes, charges and admin fee and are on an each-way basis, when purchased as part of a return trip. Subject to terms, conditions and availability.
Aer Lingus Newsletter
Sign Up and Save
Be first to receive current offers on flights to Newark
Learn about new and exciting destinations
Get the latest travel news and more