Flights from Dublin to Munich
Munich is the capital of the state of Bavaria. Famous for it annual Oktoberfest celebration and its beer halls, the city is also home to centuries-old buildings and numerous museums. It's a city that won't disappoint and will leave you in no doubt about its reputation as as one of Germany's most sophisticated and refined cities.
Cheap flights to Munich from Dublin
Catch a cheap flight to Munich with Aer Lingus and enjoy a quick and comfortable journey. We operate daily departures to Munich from Dublin Airport Terminal 2. Once you reach Munich airport, the city centre is just a few minutes away.
Why Visit Munich?
In Munich exclusive shopping, fashionable streets and monumental buildings co-exist with Lederhosen, brass music and rustic beer halls. Visitors can start their day in a simple bar with knuckle of pork and sauerkraut, and end it in a gourmet temple with white linen tablecloths. Moreover, Germany's most cheerful residents live here.
Book flights to Munich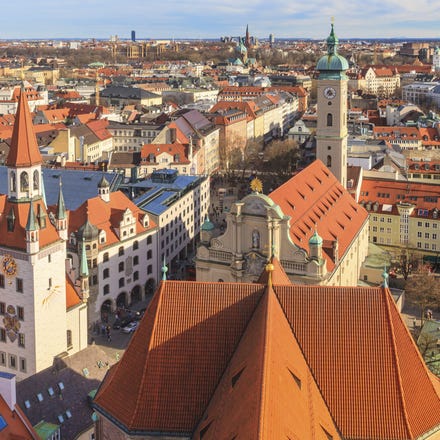 Flights in brief
Direct flights available to: Munich International Airport (MUC) Terminal 1
Average flight time: 2hr 25min
Frequency: Daily
Munich International Airport
Munich Airport (MUC) is about 40 kilometres north of the city. The quickest way to get there is by commuter train (S8 or S1), which take respectively 41 and 35 minutes from Hauptbahnhof. S1 starts running at 03.45 and there is one train every twenty minutes until 23.25. S8 starts its first journey at 03.18 and runs every twenty minutes until 00.38.
The Airport-City bus runs every twenty minutes from Hauptbahnhof (Busbahnhof, Arnulfstr.) and takes just over 40 minutes. Please notice, as the bus route goes via the Autobahn, there is heavy traffic every afternoon and it may take up to 2 hours to get to and from the airport. The first bus from the city centre leaves at 05.10 and the last one is at 19.50. Departures commence from MUC at 06.20 (start Terminal 2) and operates until 21.40. A taxi costs about € 60.
Taxi
All registered taxi drivers have a numbered identity card on display for passengers.
Taxi München eG.
+49 89 216 10
www.taxi-muenchen.de
IsarFunk

+49 89 45 05 40
www.isarfunk.de
Public transport
There is a large network of underground, commuter trains and buses centred around Marienplatz and Karlsplatz/Stachus. It functions excellently in the inner city and is considerably easier than trying to get around by car. A day pass for the entire MVV network (Münchner Verkehrs- und Tarifverbund) costs € 11,20 and for the central city zone € 5,80 "Munich City Tour Card" for € 9,90 gives you reductions in some hotels, shops and museums and is valid as a ticket for unlimited travel in the inner city.
Tel: +49 89 41 42 43 44
www.mvv-muenchen.de
Terms and Conditions
Fares are subject to terms, conditions and availability
Aer Lingus Newsletter
Sign Up and Save
Be first to receive current offers on flights to Munich
Learn about new and exciting destinations
Get the latest travel news and more