Flights from Dublin to Milan Malpensa
Fly to Milan Malpensa from Dublin with Aer Lingus and enjoy a break in the city renowned for fashion, design and stunning architecture.
Cheap flights to Milan Malpensa
Catch a cheap flight to Milan Malpensa airport with Aer Lingus and enjoy a quick and comfortable journey. We offer frequent departures to Milan from Dublin Airport Terminal 2. Once you reach Milan, you can take advantage of car hire deals with our travel partner or use public transport to take you into the city centre or further afield.
Useful facts on Milan
International Dialling Code: +39 / 0039
Currency: Euros, €1 = 100 cents
Emergency numbers: Fire brigade: 115
Medical: 118
Police: 113
Population: 1.3 million
Tourist information address: Via Marconi Guglielmo 1, Milan
+39 02 7252 4301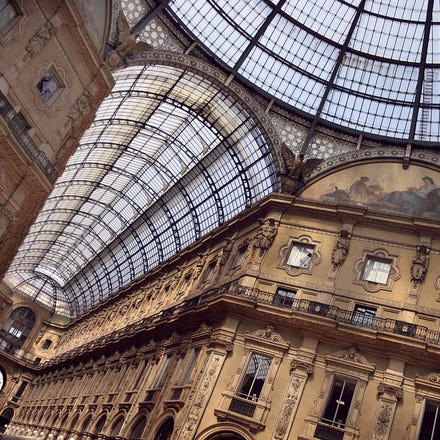 Why Visit Milan?
Milan is home to many cultural institutions, museums and art galleries, that account for about a tenth of the national total of visitors and receipts. The Pinacoteca di Brera is one of Milan's most important art galleries. The Castello Sforzesco hosts numerous art collections and exhibitions, especially statues, ancient arms and furnitures, as well as the Pinacoteca del Castello Sforzesco, with an art collection including Michelangelo's last sculpture, the Rondanini Pietá, Andrea Mantegna's Trivulzio Madonna and Leonardo da Vinci's Codex Trivulzianus manuscript. The Castello complex itself also includes The Museum of Ancient Art, The Furniture Museum, The Museum of Musical Instruments and the Applied Arts Collection, The Egyptian and Prehistoric sections of the Archaeological Museum and the Achille Bertarelli Print Collection.
Book flights to Milan Malpensa
Malpensa Airport
Malpensa is Milan's largest airport and a major transportation hub for northern Italy. Its two passenger terminals are linked by a free shuttle bus which runs 24 hours a day.
Malpensa lies approximately 50 kilometres (31 miles) from downtown Milan and can be reached by bus, train and taxi. The quickest way is via the Malpensa Express train, which departs from Malpensa Airport's Terminal 1 and stops at a number of stations, including Milan Central Station, Piazza Cadorna and Porta Garibaldi stations. If you prefer a taxi, there are ranks at exit gate 6 in Terminal 1 and exit gate 4 in Terminal 2, or you can book a taxi in advance.
Another option is to take the Terravision bus service from Milan Central Station to either Terminal 1 or 2; tickets can be booked online in advance, purchased on board the bus or at the Terravision desk in the arrivals area of both terminals. There is also a non-stop coach service between the airport and Fiera Milano City – tickets can be purchased on board.
Public Transport
As a major financial, cultural and tourism hub, Milan has an extensive public transportation system run by the company ATM. The network includes buses, trains, trams and the Metro.
Single fare tickets and day passes can be purchased from ATM ticket offices, newsstands and ticket machines. Remember that all tickets have to be validated by stamping them before you start each journey.
Terms and Conditions
Fares are subject to terms, conditions and availability
Aer Lingus Newsletter
Sign Up and Save
Be first to receive current offers on flights to Milan Malpensa
Learn about new and exciting destinations
Get the latest travel news and more