Flights from Dublin to Madrid
Fly to Madrid from Dublin and experience the lively Spanish capital. Entertainment and impressive nightlife caters to all tastes, with tapas bars, flamenco clubs and live jazz venues. For the art lover, the city centre houses three main art galleries showcasing masterpieces from Titian to Picasso There are ample park areas to relax and take a break from sightseeing in. For the avid football fan, Real Madrid's Bernabeu stadium is a metro ride away.
Cheap flights to Madrid from Dublin
Catch a cheap flight to Madrid with Aer Lingus and enjoy a quick and comfortable journey. There are daily flights to Madrid from Dublin Airport Terminal 2. Once you reach Madrid, you can take advantage of car hire deals with our travel partner, or reach the city by metro, bus or taxi
Why Visit Madrid?
It is possible that the city that never sleeps has calmed down a little in recent years. Yet, even if the bars close a bit earlier these days, you can still count on finding a party atmosphere at all times of the day and in all situations. And then, once you have had enough of socialising, you can take a few days out and enjoy the best kilometre of art to be found in Europe.
Book flights to Madrid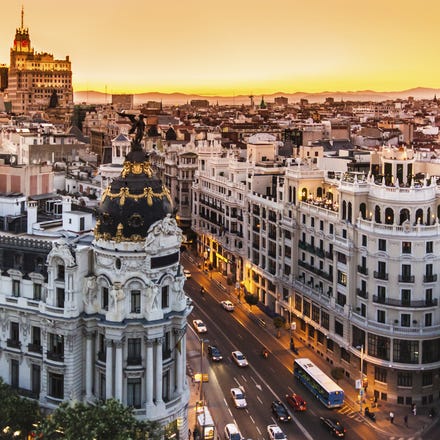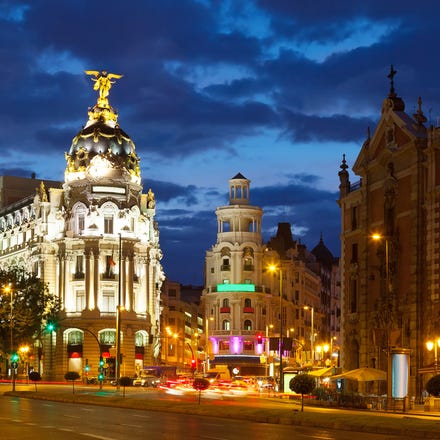 Enjoy Madrid by night
When the sun sets, Madrid really comes into its own. So if you fancy a night out with a difference, check out these local favourites in some of Madrid's coolest neighbourhoods.
Read more in our blog
Flights in brief
Direct flights available to: Barajas
Average flight time: 2hr 40min
Frequency: Up to 2 flights per day
Useful facts on Madrid
International Dialling Code: +34 / 0034
Currency: Euros, €1 = 100 cents
Emergency numbers: 112
Population: 6 million
Barajas Airport
Madrid's airport is located just over six miles from the city centre. It's really simple to get to Madrid on the metro. To get to Neuvos Ministerios – the city's large underground station – just hop on line 8 from the airport and relax on the half-hour ride.
Public Transport
The Spanish capital has an excellent underground system. There are 16 lines in total, all operating both the city and its suburbs. Running from 6am until 2am every day, it's the most efficient way to travel in Madrid.
However, Madrid's buses are also very efficient, and riding on them allows you to take in the sights as you travel. The EMT bus network consists of around 100 lines, all running from 6am until 11:30pm. Look out for the useful circle routes, which are marked with a C. If you need a night bus, head to the Plaza de Cibeles
Taxi
Here's a handy travel tip for you: you can tell when a taxi in Madrid is free if a "Libre" sign is presented in the front windscreen, and there is a green light on the roof. Be prepared for busy times – typically evenings and weekends – by booking ahead
Terms and Conditions
Fares subject to terms, conditions and availability.
Aer Lingus Newsletter
Sign Up and Save
Be first to receive current offers on flights to Madrid
Learn about new and exciting destinations
Get the latest travel news and more