Flights from Dublin to Geneva
Geneva nestles like a sparkling jewel on the shores of Lake Geneva. Here everything exudes luxury, quality, elegance and a cosmopolitan lifestyle. The place is buzzing with people from all corners of the world. The city has excellent restaurants, exclusive shops, beautiful parks, a vibrant cultural life and interesting museums. A practical aspect is that Geneva is geographically quite small. You can wander around the town in an hour, and it is easy to go on quick one-day excursions to the idyllic surroundings.
Cheap flights to Geneva from Dublin
Catch a cheap flight to Geneva with Aer Lingus and enjoy a quick and comfortable journey. We operate daily departures to Geneva from Dublin Airport Terminal 2. Once you reach Geneva airport, the city centre is just a few minutes away.
Why Visit Geneva?
There are glossy bank palaces along the lakeside, and picturesque restaurants serving piping-hot fondue and raclette. Geneva offers everything from gentle strolls around the antique shops in the Old Town or the impressive park by the Lake, exclusive shopping along the luxurious rue du Rhône to thought-provoking visits to the United Nations or the Red Cross. Museums and exhibitions are too many to be counted and expose a wide array from classic arts to modern and bold creations. The architecture has its share of surprises and changing neighborhood you might feel like you have entered a whole different city. Geneva is definitely a place that gives you a taste for more.
Book flights to Geneva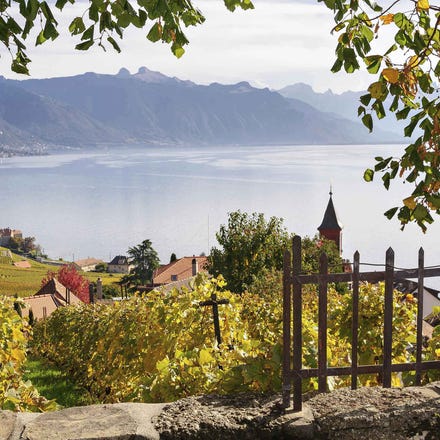 Flights in brief
Direct flights available to: Geneva International Airport (GVA)
Average flight time: 2hr 20min
Frequency: Daily
Geneva International Airport
Geneva International Airport is located about 4 kilometres from the city centre and is easy accessible from the city of Geneva.
Unireso public transportation network has various means of transport like trains and buses and the same ticket can be used for both. The trains take about 6 minutes between the airport and the Central Station in Geneva (Cornavin) and are very regular. The station is very well indicated at the airport and you can purchase tickets from the machines at the station. Bus number 10 to the Central Station takes about 15 minutes and the ticket is valid for one hour on public transport. The urban buses stop every 8-15 minutes to pick up passengers. The tickets can be bought from the ticket machines and the railway station.
Geneva International Airport, Geneva
+41 22 717 71 05 / +41 22 717 71 11
www.gva.ch
Taxi
There are numerous taxis you can easily find around town and they are very reliable and fast. Note that taxis are fairly expensive in Geneva.
Taxi Frankfurt: www.taxi-frankfurt.de
AA Genève Central Taxi: +41 22 3 202 202
www.geneve-taxi.ch
Taxi-phone SA Geneva: +41 22 33 141 33
www.taxi-phone.ch
Public transport
Geneva has excellent local public transport consisting of bus, trolley bus, tram, boat and train. The Unireso public transportation network lets you use the same ticket for all means of transportation.
Tickets can be bought from ticket machines, agencies and online. A weekly pass and a monthly pass are also available.
Note that the Geneva Unireso Network is free for anyone arriving by plane at Geneva Airport. This offer is limited to 80 minutes, counted from arrival time. Pick up your free ticket from the machine in the baggage collection area. At your hotel you will receive the Geneva Transport Card which gives you a free passport to the entire transport network.
TPG (Trams and buses): www.tpg.ch
TAC (Buses): www.reseau-tac.fr
TPN (Buses): www.bustpn.ch
SBB (Trains): www.cff.ch
Terms and Conditions
Fares are subject to terms, conditions and availability
Aer Lingus Newsletter
Sign Up and Save
Be first to receive current offers on flights to Geneva
Learn about new and exciting destinations
Get the latest travel news and more