Flights from London to Orlando
Fly from London via Dublin to Orlando with Aer Lingus. One of the world's most visited family destinations, and while its illustrious theme park attractions may steal the limelight, with a vibrant and well-kept city centre and a climate that averages around 25° Celsius (75° Fahrenheit), there is a surprising amount of things to experience here.
*Fares displayed each way as part of a return trip
*Fares displayed each way as part of a return trip
Cheap flights to Orlando from London
Grab yourself a cheap flight to Orlando and discover how easy it is to travel to North America with Aer Lingus. Connect in Dublin Airport's Terminal 2 and pre-clear U.S. immigration before boarding your flight - that means you can grab your bags and go when you land in Orlando!
Why Visit Orlando?
Widely recognised as a city with a booming tourist industry and an international theme park destination, Orlando is all that and much more for the savvy traveller. With shopping deals, boutique hotels that cater to your every whim, and restaurants catering to every taste imaginable, Orlando is just as much a city for grown-ups to come and play as it is for the children. As the city's motto goes, "Say Yes to Orlando."
Book flights to Orlando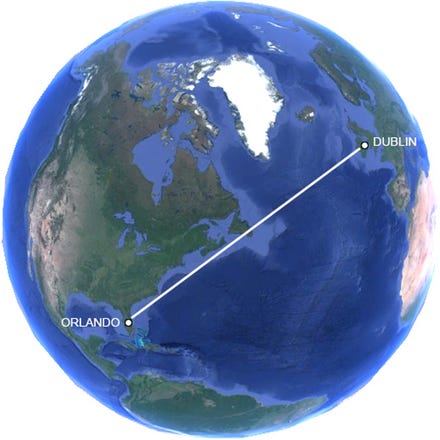 Flights in brief
Direct flights from Dublin available to: Orlando International Airport (MCO) - International Terminal
Average flight time: 8 hours 45 minutes
Frequency: Up to 4 flights per week
View Timetable
Useful facts on Orlando
International dialling code: +1 / 001
Area code: 407 or 321
Currency: US Dollar, $1 = 100 cents
Emergency numbers: 911
Population:
City proper: 249,600
Orlando tourist information
Orlando, Inc. (Orlando Regional Chamber of Commerce)
75 South Ivanhoe Boulevard
Orlando, FL 32802-1234
Telephone:+1 407 425 1234
Website: www.orlando.org
Orlando International airport
All Aer Lingus flights to Orlando arrive at Orlando International Airport (MCO), which is located approximately 9 miles southeast of downtown Orlando or 14 miles east of the International Drive area where the majority of theme parks are located.

The airport is also within 20 miles to almost all major hotels and attractions. There are also nine rental car companies within walking distance of the main terminal
Lynx bus lines 11, 51, 42, 111 and 407 connect the airport and the city centre.
Address: 1 Jeff Fuqua Blvd, Orlando
Telephone: +1 407 825 2001
Website: www.orlandoairports.net
Public transport
Bus
LYNX is a regional bus service in central Florida including Orlando. You can either buy a single ride or buy a 7-day pass. You can buy your tickets on the web or from certain outlets in the area.

LYNX bus stops are regularly marked by a round sign with a pink paw or with a pink bus symbol.
Telephone: +1 407 841 5969
Website: www.golynx.com
The I-RIDE Trolley is a convenient and affordable transportation service to destinations within the International Drive Resort Area.
Visit the Official I-RIDE Trolley website at www.iridetrolley.com
Taxi
Various taxicab options are available, including:

Star Taxi & Transportation +1 407 857 9999
Mears Transportation Group +1 407 839 1570
Taxi Express +1 407 408 9422
Orlando Taxi +1 407 736 9566
Ace Metro Cab Co +1 407 855 1111
Interplex Transportation +1 407 435 6293
Cityone Express +1 407 509 6488
Wheeler Taxi Service +1 321 662 9111
Orlando on Wheels +1 407 342 1122
Wi-FI is now available on all our A330 aircraft on our transtlantic routes. Communicate with friends and family, launch your business to new heights or browse your favourite websites as you cross the Atlantic
Stay connected
Save time and avoid queues with US Customs and Border Protection pre-clearance at Dublin or Shannon airports before your departure
Pre-clear US Customs
Terms and Conditions
Fares include taxes, charges and admin fee and are on an each-way basis, when purchased as part of a return trip. Subject to terms, conditions and availability.
Aer Lingus Newsletter
Sign Up and Save
Be first to receive current offers on flights to Orlando
Learn about new and exciting destinations
Get the latest travel news and more