Flights from Glasgow to Miami
Soak in the music and colour of The Magic City, embark on a Caribbean cruise, relax with a game of golf in the sun, visit the spectacular Florida Keys or take a tour through The Everglades. There's so much to see and do in Miami - what are you waiting for?
*Fares displayed each way as part of a return trip
Cheap flights to Miami from Glasgow
Grab yourself a cheap flight to Miami and discover how easy it is to travel to North America with Aer Lingus. Connect in Dublin Airport's Terminal 2 and pre-clear U.S. immigration before boarding your flight - that means you can grab your bags and go when you land in Miami!
Why Visit Miami?
Everything in Miami oozes glamour, elegance and a cosmopolitan attitude. Beaming Miami is nestled on the Atlantic coast of Florida's most southern tip, rendering it sunny and pleasantly warm all year round. To call this city international is an understatement of criminal proportions. It is a North American core with a twist of the Caribbean, a healthy dose of Latin America, a dash of Africa, a touch of Asia and a hint of Europe. All of these elements combined give Miami a vibrant, exhilarating cultural life.
Book flights to Miami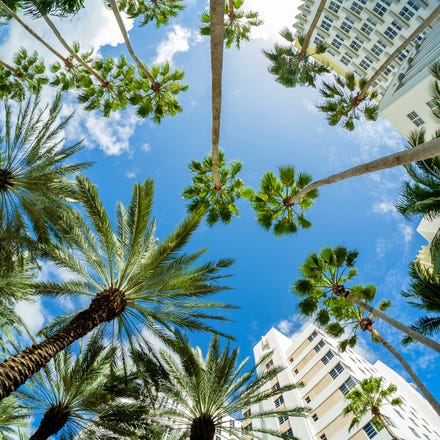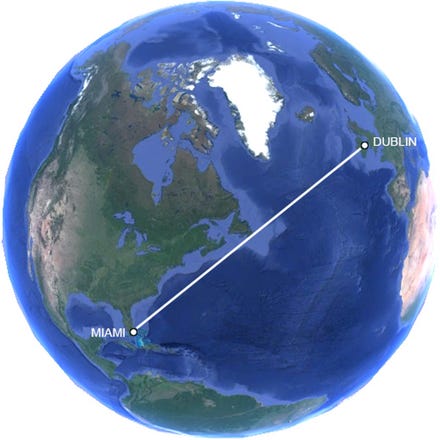 Flights in brief
From September 2017 direct flights available to: Miami International Airport (MIA)
Average flight time: 9 hours
Frequency: 3 flights per week
View Timetable
Useful facts on Miami
International dialling code: +1 / 001
Area code: 305
Currency: US Dollar, $1 = 100 cents
Emergency numbers: 911
Population:
City proper: 408,568
Metropolitan area: 5,333,945
Miami tourist information
Greater Miami and the Beaches Convention and Visitors Bureau
701 Brickell Avenue, Suite 2700
Miami, FL 33131
Telephone: +1 305 539 3000
Miami International airport
All Aer Lingus flights to Miami arrive at Miami International Airport (MCO), which is located approximately 9 miles northwest of Miami.
Taxis are available just outside baggage claim, and there is also a 24-hour 'Super Shuttle' van service available outside the baggage claim.
Bus services link the airport to all areas of Miami-Dade County.
The 'Tri-Rail' train can be reached on the Airport Station just east of the airport. It is worth asking your hotel beforehand if they offer a shuttle service from and to the airport.
An Info-Center can be found on level 2 in Concourse E, which also hosts a bank, post office, pharmacy, baggage storage, ATMs and several car rental companies.
Telephone: +1 305 876 7000
Website: www.miami-airport.com / www.tri-rail.com / www.supershuttle.com
Public transport
As in many cities across the United States, car is by far the main mode of transport. However, Miami still has a lot to offer in terms of public transport.

The Metromover is an excellent way of moving around in downtown Miami – it is free and runs from 5am until midnight every day.

Metrorail runs from the north to the south of Miami across downtown. The service runs every day from 5am until midnight.

The Metrobus service covers all of the Greater Miami area. Several buses operate all week, 24 hours a day. Fares can be paid with small change either on board the bus or before entering the Metrorail. Otherwise, the EASY Card, loaded with money or for a period of time, that can be used on both services, can be bought in certain specified outlets across the city.

The South Beach Local is the cheapest and most scenic way to travel along South Beach. The shuttle comes to numerous bus stops every 12-20 minutes. It operates Monday to Saturday from 7:40am-1:20am, and on Sundays from 10am-1pm.
Website: www.miamidade.gov/transit/home.asp
Wi-FI is now available on all our A330 aircraft on our transtlantic routes. Communicate with friends and family, launch your business to new heights or browse your favourite websites as you cross the Atlantic
Stay connected
Save time and avoid queues with US Customs and Border Protection pre-clearance at Dublin or Shannon airports before your departure
Pre-clear US Customs
Terms and Conditions
Fares include taxes, charges and admin fee and are on an each-way basis, when purchased as part of a return trip. Subject to terms, conditions and availability.
Aer Lingus Newsletter
Sign Up and Save
Be first to receive current offers on flights to Miami
Learn about new and exciting destinations
Get the latest travel news and more