Flights from Dublin to Düsseldorf
Düsseldorf houses is famous for its nightlife, carnival, events, shopping and for fashion and trade fairs. It's an art-lovers city too, with over 100 galleries and 26 museums, a renowned opera house and cutting-edge architecture, this chic and fashion-conscious city by the Rhine patently loves its culture - and its beer.
Cheap flights to Düsseldorf from Dublin
Catch a cheap flight to Düsseldorf with Aer Lingus and enjoy a quick and comfortable journey. We operate daily departures to Düsseldorf from Dublin Airport Terminal 2. Once you reach Düsseldorf airport, the city centre is just a few minutes away.
Why Visit Düsseldorf?
Düsseldorf houses "the longest bar in the world," Germany's finest shopping boulevard Königsallee, and countless museums, theatres and attractions underscoring the city as a major arts centre. It offers the legendary cheer of the Rhineland with all its quaint traditions in perfect harmony with all the luxuries of a truly cosmopolitan city. You are invited to discover this great city.
Book flights to Düsseldorf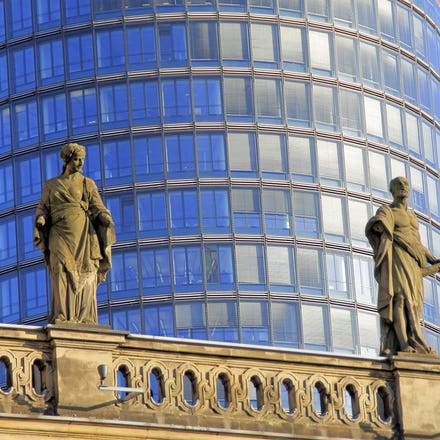 Flights in brief
Direct flights available to: Düsseldorf International Airport (DUS)
Average flight time: 1hr 50min
Frequency: Daily
Düsseldorf International Airport
Düsseldorf has the third-largest airport in Germany with more than 70 airlines serving 180 destinations.
It is located approximately 7 kilometres (4.3 mi) north of downtown Düsseldorf, and some 20 kilometres (12 mi) south-west of Essen in the Rhine-Ruhr area, Germany's largest metropolitan area. As the airport is close to the city it is very convenient, and it only takes a few minutes by train or taxi.
Taxis will get you to the city in between ten and 15 minutes and to Düsseldorf's trade-fair centre in just three. The taxi rank is located in front of central arrivals.
The following rates are provided as a guide:
Düsseldorf Airport – Düsseldorf Centre / Central Station approx. 16.00 €
Düsseldorf Airport – Düsseldorf Trade-Fair Centre approx. 11.00 €
Taxi Düsseldorf: T. +49 211 33333
Rhein Taxi: T. +49 211 212121
Taxi
Taxi Duesseldorf: +49 (0)211 33333 / +49 (0) 211 99999
Rhein Taxi: +49 (0) 2112121 1
External link: www.rheintaxi.de
Public transport
Rheinbahn (the railway company for the Rhine region) offers a day ticket (from €6.50) which allows you to travel all day within a selected fare zone. Also available for groups (2–5 people).
Terms and Conditions
Fares are subject to terms, conditions and availability
Aer Lingus Newsletter
Sign Up and Save
Be first to receive current offers on flights to Düsseldorf
Learn about new and exciting destinations
Get the latest travel news and more