Flights from Glasgow to Chicago
Fly from Glasgow via Dublin to Chicago with Aer Lingus and explore the sights and sounds of one of the largest cities in the United States. Chicago is the largest city in the Midwest and blends influences from around the world. It has all of the big city attractions mixed with the more relaxed attitude and friendly people of the Midwest.
*Fares displayed each way as part of a return trip
Cheap flights to Chicago from Glasgow
Grab yourself a cheap flight to Chicago and discover how easy it is to travel to North America with Aer Lingus. Connect in Dublin where you can pre-clear U.S. immigration before boarding your flight - that means you can grab your bags and go when you land in Chicago!
Why Visit Chicago?
Chicago is unique in that it is a thriving, bustling metropolitan area that manages to feel homey at the same time. The ethnic diversity, multi-cultural neighbourhoods, and close proximity of these neighbourhoods make Chicago a true melting pot. The main tourist areas of Chicago are very close together, making it an easy city to explore. A leisurely walk, a short bus or taxi ride, or even a boat tour will expose you to the famous museums, breathtaking architecture, exclusive shops, world class festivals, delectable restaurants, and all else that Chicago has to offer.
Book flights to Chicago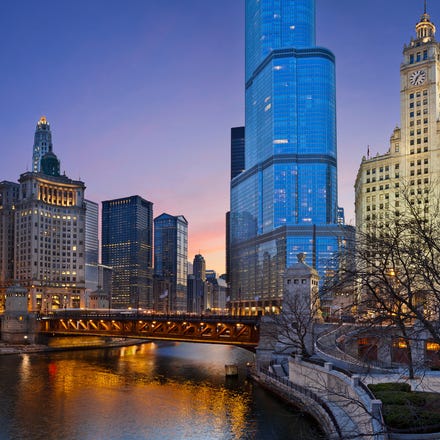 Flights in brief
Connect in Dublin then fly direct to: O'Hare International Airport (ORD) - Terminal 5
Average flight time from Dublin or Shannon to Hartford: 8 hrs 25 min
Frequency: Up to 2 flights per day
Useful facts on Chicago
International dialling code: +1 / 001
Area code: 312 or 773
Currency: US Dollar, $1 = 100 cents
Emergency numbers: 911
Population: 2.84 million
Chicago tourist information
Chicago Office of Tourism

Chicago Cultural Center
77 E. Randolph Street

Chicago Water Works
163 E. Pearson Street
Chicago O'Hare airport
All Aer Lingus flights to Chicago arrive at O'Hare International Airport (ORD), which is located approximately 18 miles (30 km) northwest of the city centre.
The Blue Line train takes passengers to and from O'Hare and downtown Chicago and runs 24 hours a day.
Taxis take about 20-30 minutes to get to the city centre.
Website: www.flychicago.com
Public transport
Chicago has an excellent system of trains, buses and a commuter rail. Pay in cash on the bus and in exact change. Transit cards may be purchased at selected outlets and eliminates the hassle of needing exact change. You may also call and get exact directions on public transport to and from any destination in the city. RTA Travel Information service is available seven days a week, including holidays, 04.45-1.00 for travel information on CTA, PACE, and Metra.
Telephone: +1 312 836 7000
Website: www.transitchicago.com
Wi-FI is now available on all our A330 aircraft on our transtlantic routes. Communicate with friends and family, launch your business to new heights or browse your favourite websites as you cross the Atlantic
Stay connected
Save time and avoid queues with US Customs and Border Protection pre-clearance at Dublin or Shannon airports before your departure
Pre-clear US Customs
Terms and Conditions
Fares include taxes, charges and admin fee and are on an each-way basis, when purchased as part of a return trip. Subject to terms, conditions and availability.
Aer Lingus Newsletter
Sign Up and Save
Be first to receive current offers on flights to Chicago
Learn about new and exciting destinations
Get the latest travel news and more