Flights from Manchester to Los Angeles
Fly from Manchester to LA with Aer Lingus. Los Angeles is a trend-setting global metropolis with an extraordinary history and a rich cultural heritage, boasting vibrant multicultural neighbourhoods. It is known as the Entertainment Capital of the World and is home to renowned museums, along with 75 miles of sunny coastline. Whatever type of holiday you're after, Los Angeles, California has it all!
*Fares displayed each way as part of a return trip
Cheap flights to Los Angeles from Manchester
Grab yourself a cheap flight to Los Angeles and discover how easy it is to travel to North America with Aer Lingus. Connect in Dublin Airport's Terminal 2 and pre-clear U.S. immigration before boarding your flight - that means you can grab your bags and go when you land in LA!
Why Visit Los Angeles?
Home of Universal Studios, Hollywood, Beverley Hills, Sunset Strip and the Walk of Fame, Los Angeles has long lured people into its glittering fantasy world. With endless sunshine, palm trees, shopping malls and beautiful people, this city is like no place you've ever been before, and yet is strangely familiar. Los Angeles is a wonderful, vibrant, exhilarating multi-cultural hub with a plethora of things to do and see.
Book flights to Los Angeles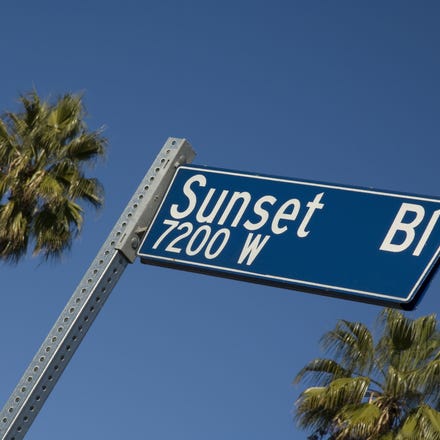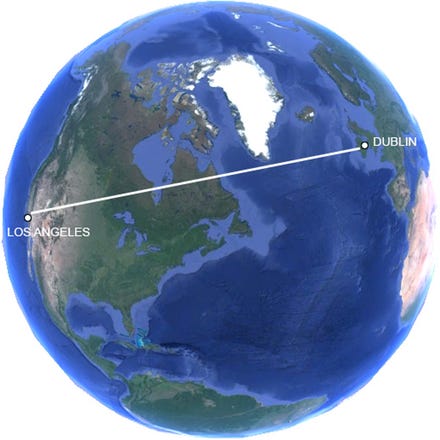 Flights in brief
Direct flights from Dublin available to: Los Angeles International Airport (LAX) - Terminal 2
Average flight time: 11 hours
Frequency: Up to 4 flights per week
View Timetable
Useful facts on Los Angeles
International dialling code: +1 / 001
Area code: L.A. has seven Area Codes. Downtown uses the original 213. The rest of the city is divided into 310 (West of La Cienega Boulevard), 818 (San Fernando Valley), 626 (East), 562 (some areas in the South and East) and 323.

For directory inquiries call 411.
Currency: US Dollar, $1 = 100 cents
Emergency numbers: 911
Population:
Los Angeles County: 10,200,000
Greater LA Metro Area: 18,679,763
Los Angeles tourist information
The Los Angeles Convention and Visitors Bureau
Monday-Friday from 9 am-5 pm
685 Figueroa Street, between Wilshire Blvd. and 7th Street, Downtown
Telephone: +1 213 689 8822
Los Angeles International airport
All Aer Lingus flights to LA arrive at Los Angeles International Airport (LAX), which is located about 30 km (19 miles) southwest of Downtown L.A.

Public transport from LAX is slow, but cheap. The "C" shuttle leaves from the LAX Shuttle & Airline Connections sign on the Lower/Arrival Level islands in front of each terminal and brings passengers to the Metro Bus Center, where they can catch city buses serving the Los Angeles area.

Information on city bus services is available by telephone on the Information Display Board in the baggage claim area in each terminal. In addition, passengers can obtain local transit information by calling +1 800 266 6883. L.A. city's easily navigable website also gives routes and timetables for public transport to and from the city.

Private shuttle buses do hotel drop-offs right to the door, cheaper than a taxi and quicker than the public bus. These can be found on the Lower/Arrival Level islands in front of each terminal under the red sign Hotel & Parking Lot Shuttles.

Taxis are readily available but expensive (they add a service charge from the airport). They can be found on the Lower/Arrival Level islands in front of each terminal. Passengers are given a ticket stating typical fares to major destinations.

There are also plenty of car rental agencies at the airport with competitive prices.
Telephone: +1 855 463 5252
Website: www.lawa.org/welcomeLAX.aspx
Public transport
Los Angeles is a city designed for cars. Getting around without one is generally slow and complicated. Most visitors rent a car for their stay, but if you decide not to, there are options. Buses, trains and trams are run by the Los Angeles County Metropolitan Transit Authority.
The Metro, which runs both over and under ground, is sometimes handy for getting from Downtown outwards. The Transit Authority's website is easily navigable and provides all necessary information on routes, timetables and fares (www.mta.net).
The Downtown Area Short Hop (DASH) shuttle system operates buses throughout Downtown, Hollywood and the west side of L.A. Service runs roughly every 5 to 20 minutes. Contact the Department of Transportation for routes and timetables.
Wi-FI is now available on all our A330 aircraft on our transtlantic routes. Communicate with friends and family, launch your business to new heights or browse your favourite websites as you cross the Atlantic
Stay connected
Save time and avoid queues with US Customs and Border Protection pre-clearance at Dublin or Shannon airports before your departure
Pre-clear US Customs
Terms and Conditions
Fares include taxes, charges and admin fee and are on an each-way basis, when purchased as part of a return trip. Subject to terms, conditions and availability.
Aer Lingus Newsletter
Sign Up and Save
Be first to receive current offers on flights to Los Angeles
Learn about new and exciting destinations
Get the latest travel news and more