Flights from Birmingham to San Francisco
San Francisco is one of the most beautiful cities on the west coast. Famed for its steep rolling hills, iconic bridges, unique architecture, and its wonderful location on the Pacific Coast Highway. Cosmopolitan and diverse, the stunning Bay Area just gets better with time.
*Fares displayed each way as part of a return trip
Cheap flights to San Francisco from Birmingham
Grab yourself a cheap flight to San Francisco and discover how easy it is to travel to North America with Aer Lingus. Connect in Dublin Airport's Terminal 2 and pre-clear U.S. immigration before boarding your flight - that means you can grab your bags and go when you land in San Francisco!
Why Visit San Francisco?
"Every man should be allowed to love two cities - his own and San Francisco," once said author Gene Fowler. San Francisco, also known as the City by the Bay, is a diverse, colourful, and intriguing destination luring visitors from all corners of the world with its beauty, culture, history and dynamic ambience. It is best known for its steep hills, beautiful panoramic vistas, and excellent cuisine. The eclectic mix of architecture, sandy beaches, ethnic and cultural diversity, and entertainment for all ages makes San Francisco a great choice for vacation.
Book flights to San Francisco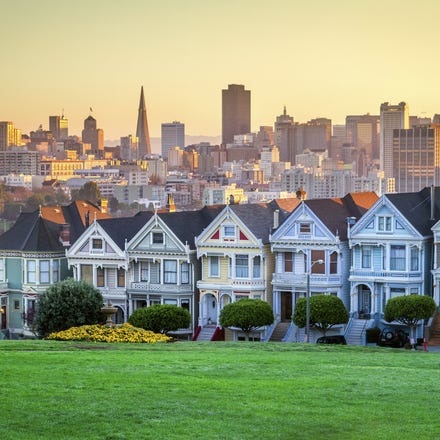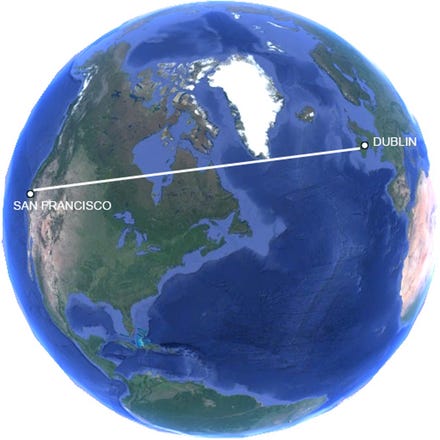 Flights in brief
Direct flights from Dublin available to: San Francisco International Airport (SFO)
Average flight time: 11 hours
Frequency: Daily
View Timetable
Useful facts on San Francisco
International dialling code: +1 / 001
Area code: 415
Currency: US Dollar, $1 = 100 cents
Emergency numbers: 911
Population:
City proper: 408,568
Metropolitan area: 4,656,132
San Francisco tourist information
Visitor Information Services
900 Market Street, San Francisco (Lower Level of Hallidie Plaza)
Opening hours: Mon-Fri 9 am-5 pm. Sat-Sun 9 am-3 pm
Telephone: +1 415 391 2000
San Francisco International airport
All Aer Lingus flights to San Francisco arrive at San Francisco International Airport (SFO), which is located approximately 8 miles south of San Francisco.
BART (Bay Area Rapid Transit) rail runs from SFO to San Mateo County, San Francisco and the East Bay. It is a convenient and quick way of getting to the city centre. You will find the SFO BART Station on the Departures/Ticketing Level of the International Terminal (Boarding Area G side). Tickets can be bought at the SFO BART Station upon arrival. (www.bart.gov)

SamTrans offers 24-hour bus service connecting SFO to San Mateo County and parts of San Francisco. Routes KX, 292, 397 and 398 stop directly at the Airport terminals.
SamTrans buses stop at the terminals,:
Terminal 2: Arrivals/Baggage Claim Level, center island adjacent to Courtyard 2
Terminal 3: Arrivals/Baggage Claim Level, curbside adjacent to Courtyard 4
International Terminal: Level 1 at Courtyard A and curbside adjacent to Courtyard
(www.samtrans.com)

Taxis offer door-to-door service to any destination within San Francisco and surrounding communities.
Public transport
San Francisco has the most extensive public transit system on the West Coast. The MUNI-Metro, a light rail System, operates five routes that crisscross the city. BART (Bay Area Rapid Transit) is the regional transit system connecting San Francisco with outlying communities.
The MUNI Passport can be purchased at the airport, online or at several locations inside the city. Offers unlimited rides on buses, historical streetcars and cable cars.
Wi-FI is now available on all our A330 aircraft on our transtlantic routes. Communicate with friends and family, launch your business to new heights or browse your favourite websites as you cross the Atlantic
Stay connected
Save time and avoid queues with US Customs and Border Protection pre-clearance at Dublin or Shannon airports before your departure
Pre-clear US Customs
Terms and Conditions
Fares include taxes, charges and admin fee and are on an each-way basis, when purchased as part of a return trip. Subject to terms, conditions and availability.
Aer Lingus Newsletter
Sign Up and Save
Be first to receive current offers on flights to San Francisco
Learn about new and exciting destinations
Get the latest travel news and more