Flights from Dublin to Boston
Fly from Dublin to Boston with Aer Lingus and explore the sights and sounds of one of the oldest cities in the United States. With a rich history, diverse neighbourhoods, and legacy of arts, culture, and education, Boston has something for every visitor!
*Fares displayed each way as part of a return trip
Cheap flights to Boston from Dublin
Grab yourself a cheap flight to Boston and discover how easy it is to travel to North America with Aer Lingus. With two flights per day from Dublin Airport's Terminal 2, there will be a flight time to suit your travel needs. Pre-clear U.S. immigration before boarding your flight - that means you can grab your bags and go when you land in Boston!
Why Visit Boston?
Long known for its "old world" charm, from the historic Faneuil Hall to the Freedom Trail that celebrates Boston's preeminent role in the American Revolution, Boston has come a long way towards staking its claim in the 21st century. With the completion of the "Big Dig," which buried Boston's vast network of highways underground, Boston has hit the new century running. Attractions span the old and the new, including beautiful public libraries, fascinating museums and plenty of sports. With a collection of parks set to take the place of the ungainly elevated highways, the years to come promise to see Boston grow ever more beautiful.
Book flights to Boston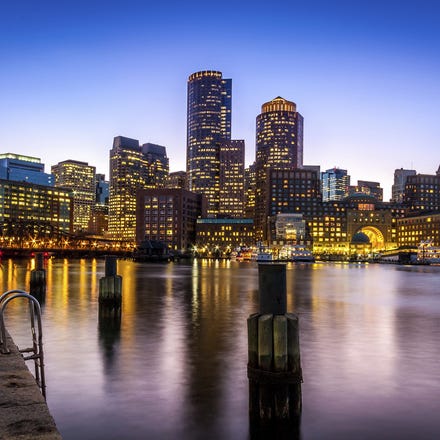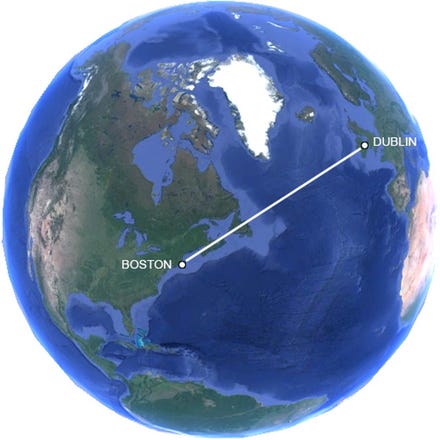 Flights in brief
Direct flights available to: Logan International Airport (BOS) - Terminal C
Average flight time: 7 hours
Frequency: Up to 2 flights per day
View Timetable
Useful facts on Boston
International dialling code: +1 / 001
Area code: 617
Currency: US Dollar, $1 = 100 cents
Emergency numbers: 911
Population:
City proper: 667,000
Metropolitan area: 4,600,000
Boston tourist information
Boston Common Visitor Information Center
148 Tremont Street, Boston
Underground: Park Street
Telephone: +1 617 536 4100
Mon-Fri 8:30am-5pm, Sat-Sun 9am-5pm
Boston Logan airport
All flights to Boston arrive at Logan International Airport (BOS), which is located approximately 5 miles east of downtown Boston.

A free shuttle is available to the nearest "T" stop – it services all of Logan's five terminals. Taxi service to downtown is available through Back Bay Coach (+1 888 222 5299).
Book taxis 24 hours in advance of your arrival or departure. Although the airport is close to the city center, traffic can make the trip last as long as thirty minutes.
Address: 1 Harborside Dr, Boston
Telehone: +1 800 235 6426
Website: www.massport.com
Public transport
Rail
The MBTA, known locally as the "T," provides quick and efficient rail service throughout the city. Single tickets are available, as well as week-long unlimited "Visitor Passes". Bring cab fare if you plan on staying out late, as the T stops running at 12:30am.
Website: www.mbta.com
Bicycle
Boston is small enough to be completely manageable by bike. Call Boston Bike Tours and Rental to make a reservation and they'll bring the bike to you.
Taxis
Taxis are the only way to get around town after the T stops running at 12:30am. Lines of cabs wait outside major hotels or can be flagged down in the street.
Wi-FI is now available on all our A330 aircraft on our transtlantic routes. Communicate with friends and family, launch your business to new heights or browse your favourite websites as you cross the Atlantic
Stay connected
Save time and avoid queues with US Customs and Border Protection pre-clearance at Dublin or Shannon airports before your departure
Pre-clear US Customs
Terms and Conditions
Fares include taxes, charges and admin fee and are on an each-way basis, when purchased as part of a return trip. Subject to terms, conditions and availability.
Aer Lingus Newsletter
Sign Up and Save
Be first to receive current offers on flights to Boston
Learn about new and exciting destinations
Get the latest travel news and more