Flights from Dublin to Berlin
No other European metropolis has so much changed in recent years. Walking through Berlin you will see evidence of many different historic periods in a short time, from medieval buildings to the famous sightseeing landmarks like the Brandenburg Gate, Reichstag and East Side Gallery. Today Berlin presents itself as a young, dynamic metropolis open to the world right in the heart of Europe, setting new trends in architecture, art and fashion. Discover its diversity - enjoy Berlin!
Cheap flights to Berlin from Dublin
Catch a cheap flight to Berlin with Aer Lingus and enjoy a quick and comfortable journey. We operate frequent departures to Berlin from Dublin Airport Terminal 2. Once you reach Berlin Tegel Airport, the city centre is just under 8km or 5 miles away.
Why Visit Berlin?
Berlin is full of things to do and see, every single day. Summer roof terraces and beach bars, winter Christmas markets, shopping, sightseeing and museums at any time of the year. Its a city brimming with history, visit the Brandenburg Gate, the Reichstag, the remains of the Berlin Wall and then take in some fabulous food in one of the citys many avant-garde restaurants. You will not be disapointed!
Book flights to Berlin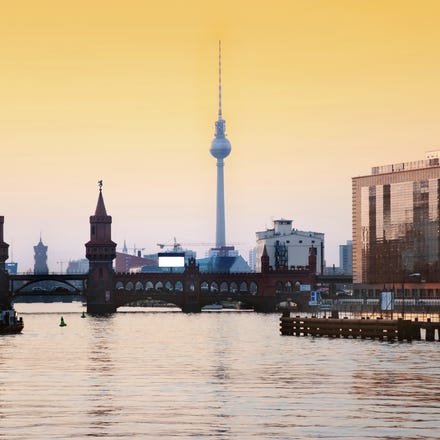 Flight in brief
Direct flights available to: Berlin Tegal Airport (TXL)
Average flight time: 2hr 20min
Frequency: Daily
Berlin Tegel Airport
Airport Tegel (TXL) lies in the northwest of the city, approx. 8 km (5 miles) from downtown Berlin. It has a close connection to the stadtautobahn (urban motorway) as well as local public transport services with the 109 and X9 bus routes to Zoologischer Garten, the 128 bus route to the northern districts of Berlin and the TXL bus route to the government quarter.
Taxi
When hiring a taxi in Berlin, you pay a basic charge of €3.90 plus €2.00 for each kilometre travelled. The "Kurzstrecke" (short distance) tariff gives you a journey of up to two kilometres for €5.00 – in this case, however, you have to flag down the taxi yourself. The "Kurzstrecke" tariff does not apply if you order a taxi or get in one at a designated taxi-waiting spot.
Taxi Berlin International +49 30 20 20 21 22 0
(English language taxi-ordering service around the clock) taxi-berlin.de.
Funk Taxi Berlin +49 30 26 10 26
External link: www.funk-taxi-berlin.de
Public transport
Comfortable, affordable and straightforward to use and get around Berlin's sights: use the extensive network of city and metro trains, as well as buses and trams.
Trains run on the honor system and there are no ticket barriers to use the U-Bahn, S-Bahn, trams or regional trains. On buses, you need to show your ticket to the driver and enter through the front door. Plain clothes controllers patrol all public transportation, so make sure to validate tickets before boarding.
You can find out about public transport fares, schedules and contact information here.
Terms and Conditions
Fares are subject to terms, conditions and availability
Aer Lingus Newsletter
Sign Up and Save
Be first to receive current offers on flights to Berlin
Learn about new and exciting destinations
Get the latest travel news and more