Dining in the Sky
Whether you are flying transatlantic or taking a shorter flight, Aer Lingus aims to ensure your trip is a totally enjoyable and memorable experience. Our in-flight cuisine is served with the highest degree of quality, care and consistency using fresh and seasonal produce.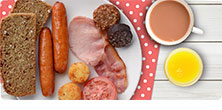 Within Europe Economy
Introducing Clodagh's Kitchen for Bia
Our new onboard food created in collaboration with renowned Irish chef Clodagh McKenna brings you the finest Irish artisan foods to enjoy while you fly.
More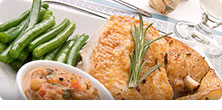 Transatlantic Economy
Upgrade your meal
All economy passengers are offered a complimentary meal. Upgrade to our enhanced meal service using the Bia online pre-order facility.
More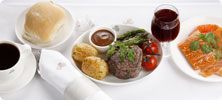 Transatlantic Business
Finest Food and Wine
Our Business Class passengers can enjoy the finest choice of restaurant quality food and wine, specially chosen and matched to each entrée.
More