Entertainment
Our on demand seat back entertainment system has the latest new release movies, hours of TV, games, music albums and music videos to keep you entertained on your journey.


This new system puts you in control of your own personal monitor, allowing you to play, pause, rewind or fast-forward a wide range of blockbuster films, TV programmes and music videos. You can also choose to play an interactive game from the large selection on board or compete against another passenger on your flight.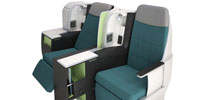 Business Class from €699
Add some luxury and extra comfort to your flight to the USA by booking a Business Class seat.
More Info