Seats & Cabin
Relax and unwind in one of our comfortable seats. Choose where in the aircraft you would like to sit: window, aisle or all the family together.


You can choose where you sit onboard, use the chart below to explore your options and decide which seat works best for you on your flight.*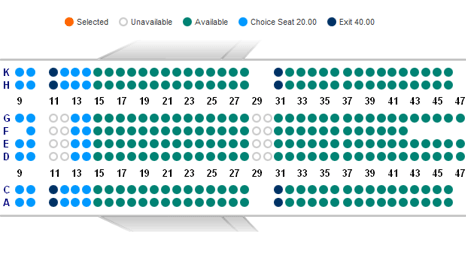 Choice
Exit
Standard
Type
Rows 12 to 15 and rows 9 to 10 (on some aircraft)
Located at the emergency exit rows (row number aircraft dependent)
All other seats in the aircraft
Seat Benefits
Sit at the front of the economy cabin so you can enjoy priority boarding and early access to the overhead lockers
Stretch out with extra leg room for your long haul journey
Ensure you get a window or aisle seat, or sit altogether
Seat Pitch & Width
31 / 32" depending on aircraft type and 17" width
Fees
from €20/$30
from €40/$50
No charge but you can choose any standard seats before you travel
Seatbelt Extensions

Seat Belt extensions are available on all our aircraft. Passengers must advise Cabin Crew if they require a seat belt extension when boarding the aircraft.

The seat belt extension cannot be pre-booked. Passengers requiring a seat belt extension will be prohibited from sitting at an exit row.
* We will endeavour to honour advance seating requests, however, we cannot guarantee any particular seat. We reserve the right to assign or reassign seats at any time, even after boarding of the aircraft. This may be necessary for operational, safety or security reasons.
How to Buy
During your booking you can add a seat to your shopping basket or if you would like to add it to your booking at a later stage you can come back to the Manage Booking section.
All seats need to be added 48 hours before departure.
Select or upgrade seat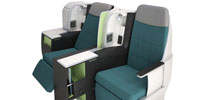 Upgrade to Business Class
Add some luxury and extra comfort to your flight to the USA by booking a Business Class seat.
Upgrade to Business Class